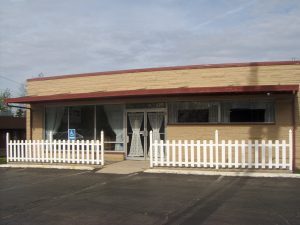 Come on in and visit our store full of Cross stitch patterns, fabric, fibers and everything that goes with it.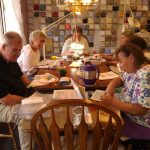 This is one of our two stitch groups that meet here or you are welcome to come in any day to stitch or your spouse can sit while you shop for all of your fun new projects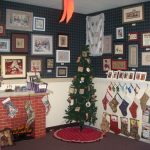 We celebrate Christmas all year round in our Christmas room.  It's full of Christmas Kits, premade large and small stocking, and ornaments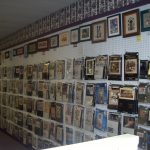 This is the wall of kits from Dimension, Janlynn, Bucilla, and Shepherd Bush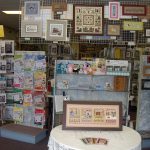 This is our ever changing display of our models.  We change it according to the seasons.  The table is to display something that is new and exciting that we want you to see as you walk in to the shop.
Our local Embroiderer's Guild meet every third Monday at 9:30 am (except in May and December) at the downtown Allen County Public Library.  For more information please call Susan at 260-443-3785 or Karen at 260-748-4078.  Their email is FWchapterega@gmail.com They welcome all areas of needlework and fabric arts.